Before the pandemic locked down the world, Ren Navarro had been travelling to breweries across Canada and the U.S. doing talks and running interactive sessions on representation in the beer industry. But COVID-19 changed all of that and Navarro, who founded Beer. Diversity. in 2018, had to reimagine how she'd deliver her talks and workshops in a world that had suddenly stopped meeting in person.
She didn't have to wait long. In April 2020, Dominion City Brewing in Ottawa reached out. They had some money earmarked for other projects, but COVID-19 changed their world too. Did Navarro want some seed money to create an inclusion toolkit? She sure did.
Navarro envisioned moving her talks and training to a web-based app where brewers could learn at their own pace. But when Zeitspace entered the picture and offered to help build a mobile app, Navarro was sold.
"No one in the beer industry has time to sit at their laptop," she says.
With all of the information about diversifying the beer industry trapped in her head, Navarro realized the timing was right to shift her work into a digital format and something that was sustainable. Her work is focused on creating inclusive environments in breweries. She's talked to craft brewers in Canada, but also large brewers based in the U.S. (Navarro is also speaking at Fluxible, Canada's UX Festival, in June.) The mobile app will make her work easier because she won't have to travel and people can learn from their phone.
"The app will kind of be the electronic version of me," says Navarro. "Right now I'm going from brewery to brewery and doing talks and interactive sessions and we're having collaborative conversations and I think the app will make it so that you can spread it faster through a company. It's not that everyone has to sit down for two hours and give their time for it. You can pop in and out."
The app, which will be available to download for both Android and iOS, will also feature articles and other content from experts, including one who is an accessibility expert.
"The app will give access to people that we didn't know were talking about these things," says Navarro.
Challenging what it means to be inclusive
When Navarro travelled to breweries in the past, she started by asking simple questions: What's the representation of people working in your building? What do you think you do really well? What do you think you need to work on? The questions led to a conversation around what it means to be an inclusive brewery.
"And quite often the conversation 99 per cent of the time is like, 'We'd like to hire more diverse people,' and it's like, 'OK, cool. Let's back it out and talk about how you get to that point because you can't just start there,' " Navarro says.
She then pushes breweries she works with to think about who they're representing in social media posts and the language they're using in those posts. If there's a pub attached to a brewery, Navarro asks if it's accessible and what the brewery is doing to make the pub a welcoming environment for everyone.
"All breweries keep saying, 'We're super inclusive,' and it's like, 'OK cool but you keep saying you want this group of people to show up and they're not so how are these two things not meeting?'" Navarro says.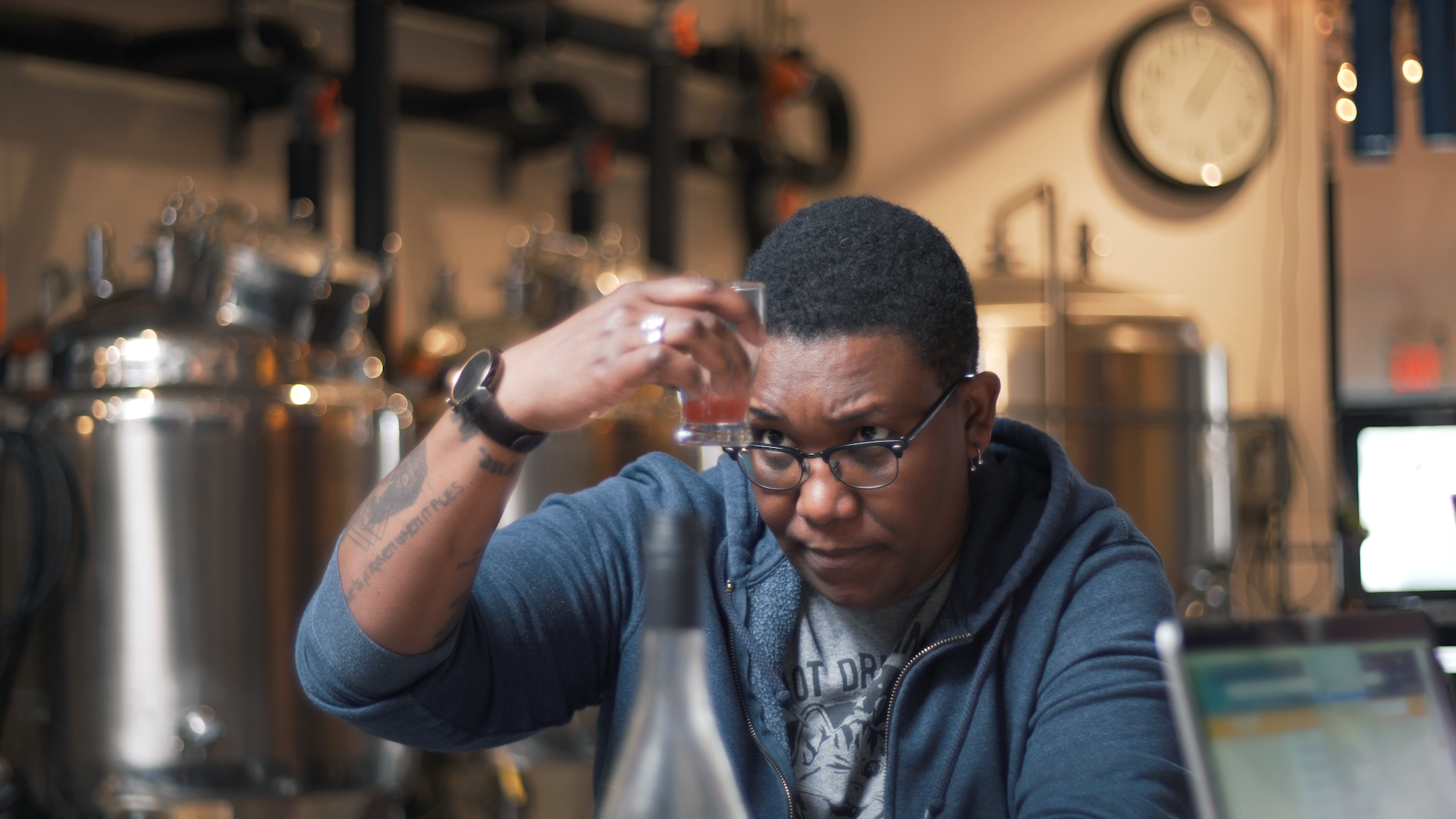 (Photo courtesy of Beer. Diversity.)
'A cool side project'
When Navarro started Beer. Diversity. in 2018, she thought it would be a side project she'd do for six months. She founded the company after working as a sales rep for a craft brewery. People always asked her, "How does it feel being a Black woman selling craft beer?" Navarro says she hadn't really thought about it, but the questions made her acknowledge that the beer industry wasn't as representative as the friends she was drinking with.
Then, she was offered a job at Canada Post. Just before she was scheduled to start her new role, a friend reached out and suggested Navarro meet with the person who runs Black Creek Community Farm in Toronto. The community farm teaches people where their food comes from and how to sustain yourself off the land. Navarro did a talk at the farm about how there are people of different backgrounds drinking beer but they're not represented or shown in advertising. Part of the talk was also about challenging the notion of what diversity means.
That's when it clicked with Navarro: talking about inclusion in the beer industry could be a cool side project. She ended up not taking the Canada Post job.
"I was like, 'OK I can do this as a side project and do some consulting with restaurants and bars and help them with their beer line ups and I can do some more talks about this and do it on the weekends and work in a taproom and just serve beer,' " she says.
After three months she had to leave the bartending job because the talks took off.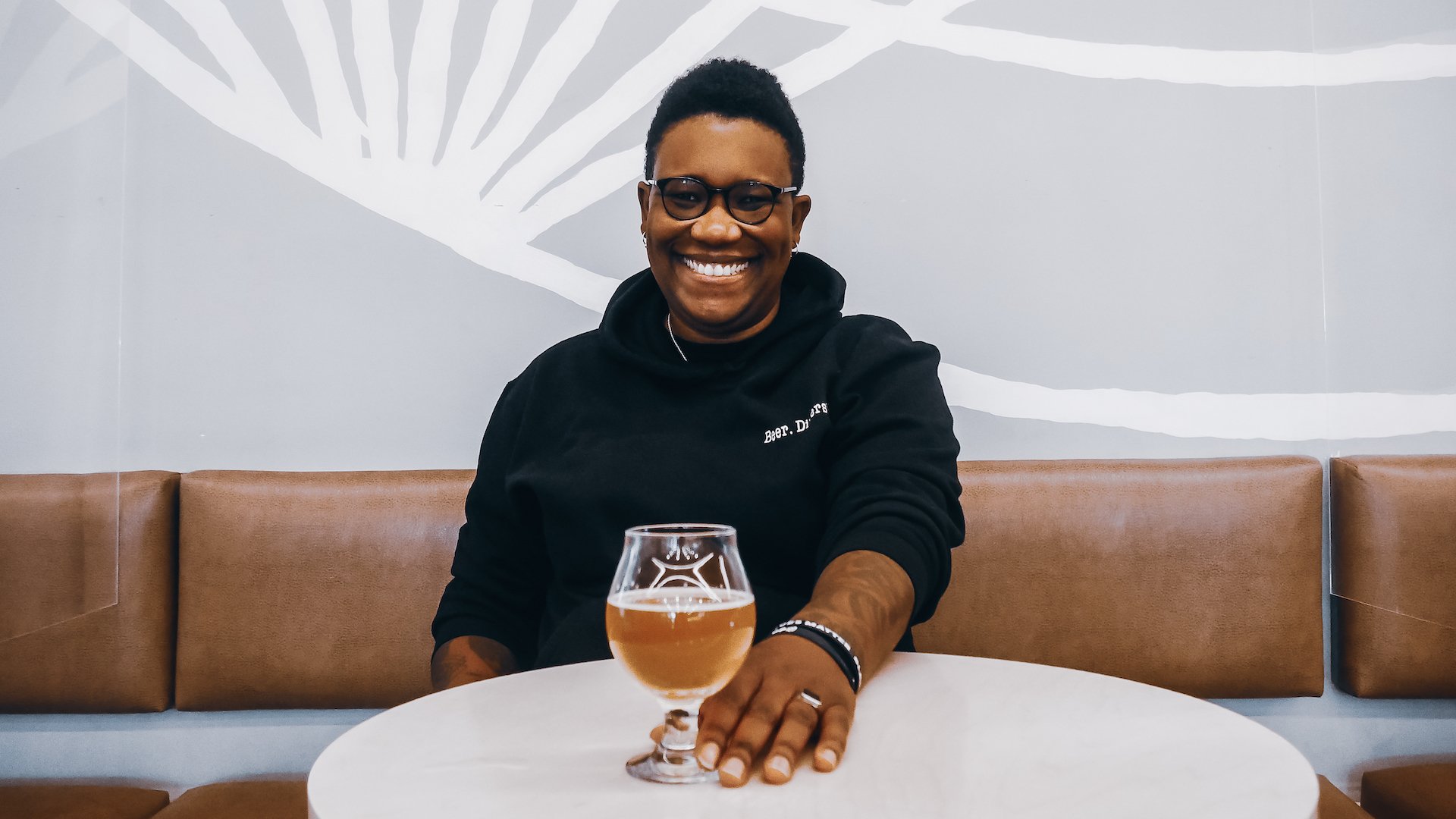 (Photo courtesy of Beer. Diversity.)
Reimagining her work in the pandemic
As popular as Navarro's talks had become in the beer industry, the pandemic meant she had to find another way to do them. Many businesses have had to reimagine their work since COVID-19 locked down the world and Navarro was in the same boat. She knew she needed a way for brewers to learn about inclusion at their own pace and in a digital environment.
An app made sense: She could update it quickly, and beer industry folks who were rarely at their desks could carry the education with them on their phones. And she could also bring in content that was relevant to any industry, not just beer.
"Because I'm bringing in diverse groups of people to talk about experiences, they're not all in beer, so to have different perspectives where you can change a word and say, 'Oh new industry, same problem,'" says Navarro.
And while COVID-19 at first slowed everything down, Navarro says she got busier as the Black Lives Matter movement grew stronger.
"I definitely feel like this year was a big year. My first six months were people still kind of figuring it out but I also got a lot of breaks with American groups and made it onto American lists of people to watch for diversity, which gave me a bigger push," says Navarro.
But also important is that in the last three years Navarro has seen changes in how job posts are written after she's visited a brewery to talk about inclusion. Some brewers have also explicitly said they would make accommodations to help people get to job interviews, which has also been another big change, she says. Social media posts from brewers are also different: not just the language that brewers are using but the images as well. There are more posts that reflect the diversity of the area where the brewer is located, so posts include people of colour, but also people who are differently abled or older.
And conversations are happening in meaningful ways.
"I'm trying to get places to talk about their values out loud and say we don't just expect it of our staff, we expect it of our patrons and that is how you show that you can be more inclusive and more open," says Navarro.
Have a story about a business that's reimagined itself because of the pandemic? Email kelly@zeitspace.com.