When Communitech was building the latest version of its news site, Tech News, making sure the site was accessible just came naturally.
The non-profit organization coaches startups and founders on building products that embody "tech for good" and wanted to be sure the principles they preach were also embedded in the digital products they put out for the world. So they asked Zeitspace to audit Tech News to make sure it was an accessible website for people — whether they were reading it, listening to it, or using it while posting stories and videos.
"We believe as a company and non-profit that everything should be inclusive," said Eric Bencina, vice president of data, strategy, IT, and operations at Communitech. "In the end inclusivity is our guiding force."
They're not alone.
Companies large and small are taking a long, hard look at how accessible their digital products and services are. And if they're not, they're doing something about it.
Take Nextdoor for example. The app, which connects people with others living in their neighbourhood, had significant accessibility changes in 2019. Before that, someone who navigated Nextdoor with a keyboard and wanted to access the newsfeed would have to tab through the entire navigation menu first.
"It's like having a really, really bad remote control that you have to go through everything in order to get to the content you want," said Kelly Goto, whose company, gotomedia, focuses on inclusive design.
But Nextdoor has now created a bypass, so people who navigate the site with a keyboard can essentially skip content to get to what they really want. It's one small change that's part of a broader focus on accessibility for the company. Other changes include making the type on their site dynamic, so that the font size grows larger as a reader zooms in, making their site more accessible to a screen reader, and building in controls for users to either manipulate the screen or speak commands.
Nextdoor said it's not stopping there and has committed to making its product more accessible.
With good reason. About 6.2 million Canadians aged 15 and over report having at least one disability. Globally, 15 per cent of the world's population experiences some form of disability. Products designed with accessibility in mind are easier for everyone to use and there are even examples of how it leads to innovation in tech.
Solving for the mismatches of people with disabilities leads to tech innovations that benefit users and customers of all abilities, said David Dame, who is the director of accessibility at Microsoft, and recently led a Zeitspace Session on the topic.
"Solving a problem for one population is an opportunity for another population," he said.
Internationally, the World Wide Web Consortium, which develops web standards that make the web work for everyone, says digital accessibility can drive innovation, enhance an organization's brand, extend its market reach, and minimize legal risk as many countries now have laws requiring digital accessibility.
But while there's a strong business case for making products more accessible, it's also a legal requirement. For example, in January 2021, a rule under the Accessibility for Ontarians with Disabilities Act came into effect that required websites for any organization with more than 50 employees to meet Level AA standards for Web Content Accessibility Guidelines (WCAG). Organizations that don't meet the standard could face fines of up to $100,000 a day.
But while those laws make people aware of how far off the mark their products are in terms of accessibility compliance, they just bring your product or organization to zero, said Dame.
Dame used to buy digital products simply because he could use them, but with more accessible products hitting the market, he now buys the ones that he can use — and love.
"We have a social responsibility and an economic need to make sure we're building great experiences," he said.
That's a common theme. In its annual State of Digital Accessibility 2021 report, Level Access, the International Association of Accessibility Professionals, and digital accessibility advocacy group G3ict, found that having an accessible product was seen as a competitive advantage. In a survey of 1,087 people who are responsible for design, development and testing of websites, apps, and other digital assets, nearly 40 per cent said their product's accessibility was called out as the reason why someone bought it. And 71.4 per cent of organizations that responded to that same survey said they prioritized buying a product or solution because of its accessibility — a 30 per cent increase from the year before.
(Not sure where to start when it comes to web accessibility? Zeitspace has run a web accessibility workshop in the past. Read, Web accessibility is usability which includes links to our workshop materials and activities you can do yourself.)
Despite laws, inaccessible apps still hitting the market
The law sometimes doesn't stop inaccessible digital products from being released. While the Canadian government's ArriveCAN website is accessible, the mobile app version is not. (The federal government says it's working to change that.)
"It always seems to be an afterthought or it's something that happens afterwards," said Rob Mineault, who along with Ryan Fleury, hosts a podcast, AT Banter, focused on assistive technology and the disabled community. "That mentality has to come into play at the development part of any given device or app."
Large companies like Apple, Microsoft, and Google are building in accessibility at the ground level with built-in screen readers and magnification products, for example. But it's the smaller app developers that aren't thinking about it, said Mineault.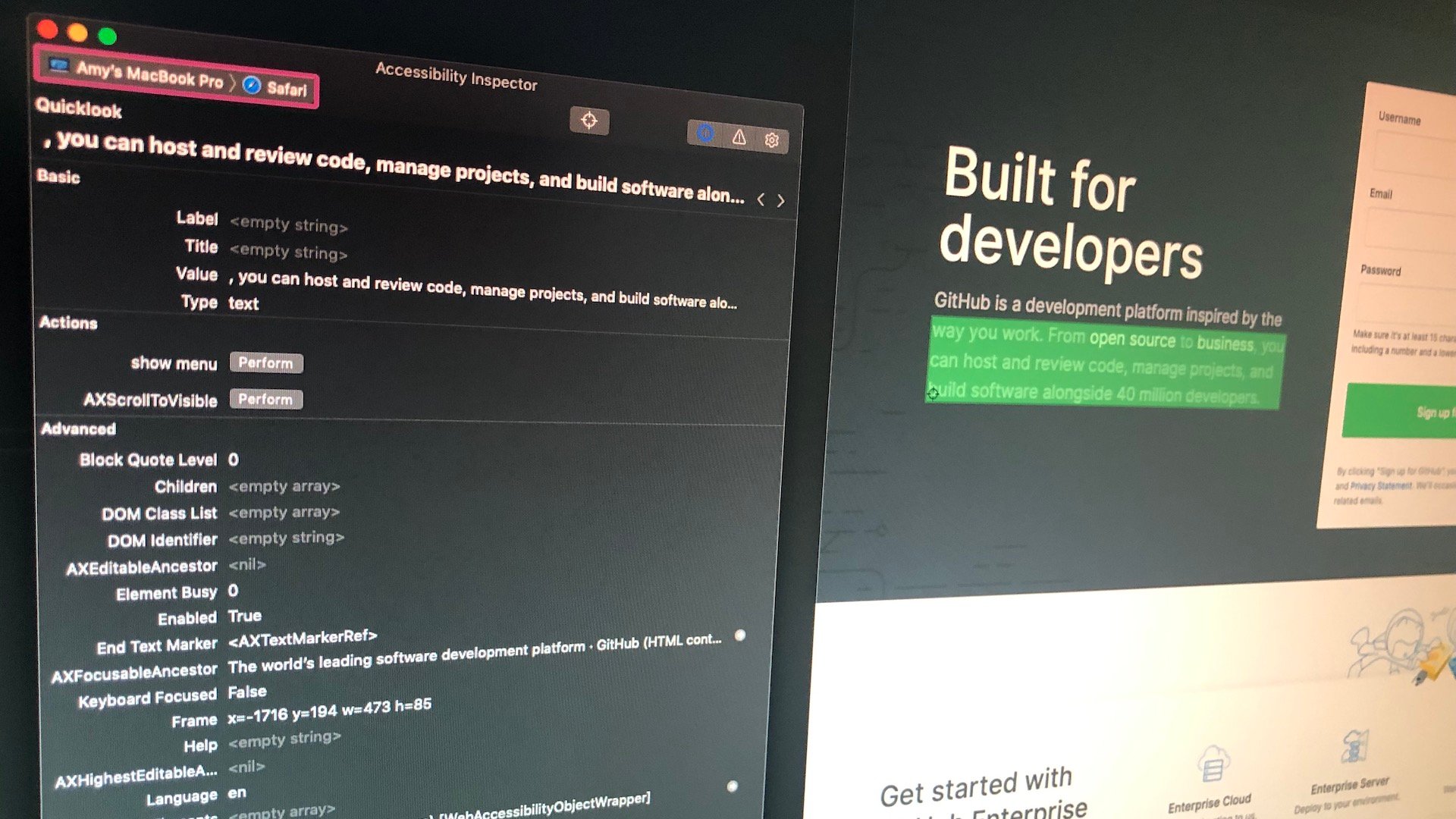 (An accessibility checker that developers can use to check accessibility issues on a website is open on a MacBook Pro. Code appears in white text on a black screen.)
And that's a problem.
In the 2021 accessibility survey, 66 per cent of development teams said accessibility was part of the development requirements on their most recent project, but more than half of those teams didn't understand how to meet those requirements. The story was similar with user experience (UX) teams: 73.2 per cent said accessibility was included in design requirements for new projects. But 36.7 per cent of teams didn't have the knowledge to meet those requirements.
But that shouldn't be an excuse.
When it comes to technology, we're living in a golden age, said Mineault.
"There's no other time in recorded history that we've had the technology and we've had the capability of building such amazing assistive technology," he said. The code exists to build the most accessible app that'll work for everyone, he added. "It's all there. It's just that we need the developers, we need the companies to embrace that and to go that extra mile to build that stuff in."
There are simple things that companies and developers can do to make accessible apps: Label buttons. Add alt text to images. Make form fields accessible. And, most importantly, engage the disabled community to test products.
"Like talk to the community, talk to somebody," said Fleury. "If it's blindness, the CNIB (the Canadian National Institute for the Blind) has been around for a hundred years, they've been around a long time."
When companies don't test their digital products with disabled people, they may be focusing on magic bullet data to validate decisions they're already making, said Goto. But they should be focusing on human-centred design principles.
"It just gets back to the same thing that I've been saying since 2001, which is focus on usability first," Goto said.
The benefits of building an accessible digital product
The longer an organization waits to make its product accessible, the greater the chance that it'll be inaccessible — and costly and time consuming to fix later, Level Access' State of Digital Accessibility 2021 report said.
"Those of us in the disability community are consumers also, and we have dollars to spend," said Fleury. "And if you build it in a way that we can access it and use it, we'll buy your product. If you don't, we'll go somewhere else."
There are other financial gains: One analysis published in Forbes found that tech companies that commit to accessibility are poised to get a cut of at least $10 billion — and as much as $16 billion — in design spending in Canada and the U.S. It raises the question: Are digitally accessible products an untapped market place?
There are other intangible benefits to building an accessible product too.
The biggest benefit from a product perspective is that you have to be more well thought out so any digital product that's released is more robust, said Jeff Fedor, who, along with Mark Connolly, are partners at Zeitspace.
Level Access's 2021 State of Digital Accessibility report found the same thing.
"When a product team considers accessibility from the start, they can iterate, test, learn, and end up with a stronger product," Level Access wrote.
And everyone can take advantage of the accessibility features companies build into a product, added Connolly.
"The notion that this work is just for disabled people is demonstrably wrong," he said. "It benefits everyone."
Case in point: Texting was originally created as a way for deaf people to communicate, but it's ubiquitous today. And there are other examples too. People use closed captioning at gyms or at noisy bars to watch television when they can't hear what the actors are saying. We may ask our devices to set a timer when we're in the middle of preparing a meal, or use our voices to control the temperature in the places we live.
"Accessibility benefits everybody," said Fleury. "It's not just a niche community."
At some point everyone will face a situational or temporary disability. It's why Microsoft created an inclusive design toolkit and principles to think about how and when everyone will at some point need to use the accessibility features of a digital product.
And building accessibility into an app or digital product helps future-proof it, added Dame.
"I always like to say, we're all going to be disabled one day, I just beat you to it," he said. "The digital product you build for me today is going to be the same digital product you're building for your future self."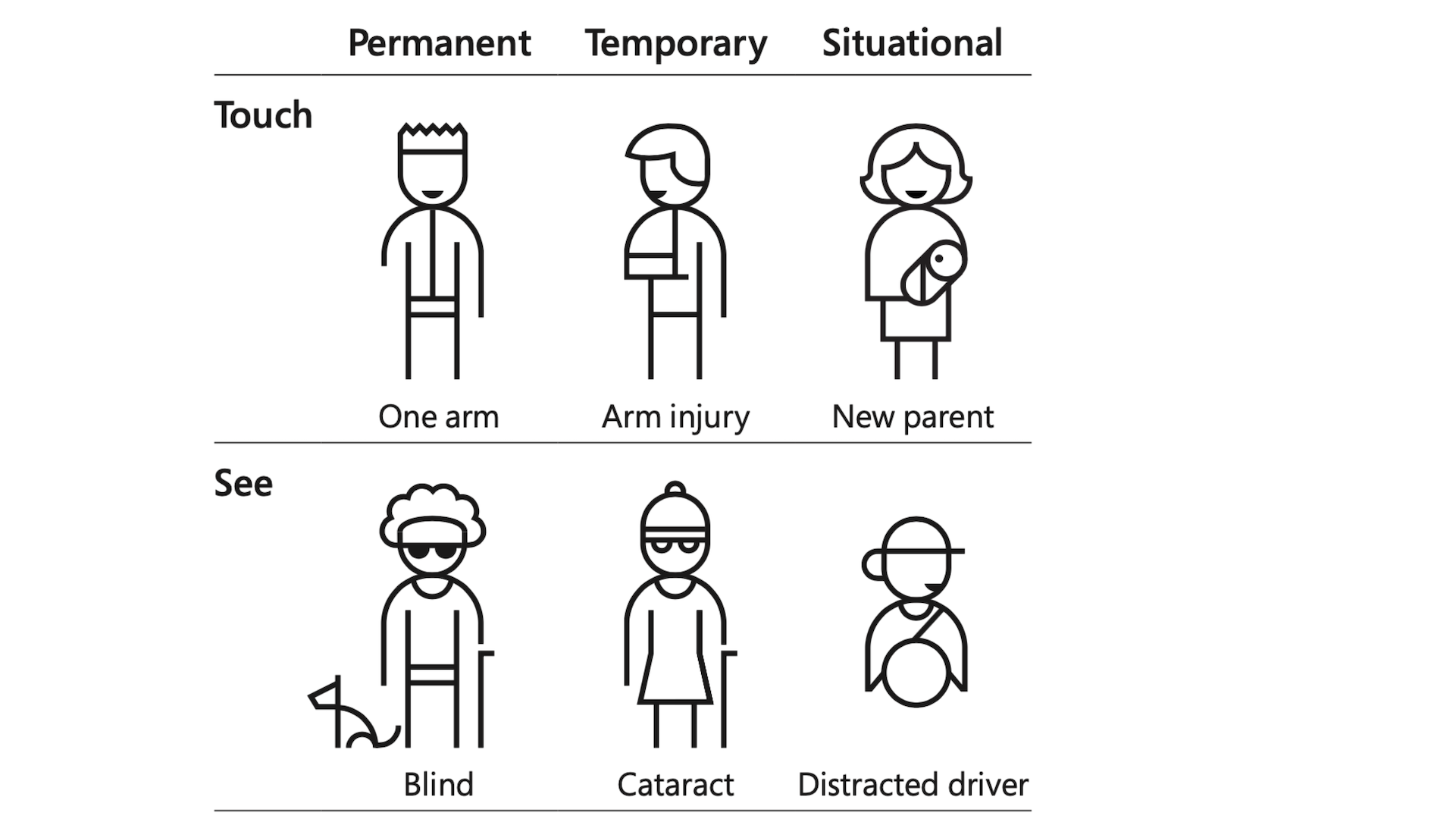 (Microsoft's inclusion toolkit thinks about all the ways people may need accessible digital products. For example, permanent disabilities may include people who only have one arm, temporary disabilities may include people with an arm injury, and situational disabilities, such as holding an infant.)
Accessibility and the aging population
The growing aging population has put an added spotlight on the accessibility of digital products. As people age, they're trying to remain in their homes longer — a phenomenon known as "aging in place" — and are often turning to digital products to help them complete tasks, whether it's ordering online groceries, using their voices or other senses to activate switches in their homes, or wearable tech that's monitoring their health.
Aging in place has driven the need for designers to think not just about universal design, but about product design that can adapt to many different environments and devices. It's something that Goto has talked about at Fluxible in the past — the need for UX designers to create sensory experiences that include touch, gestures, and voice.
"Companies looking at the aging-in-place space think: 'Oh this is a big opportunity,' but in the end, these are people with varying needs and health concerns — willing to spend to live independently and healthy lives for as long as they are able," said Goto.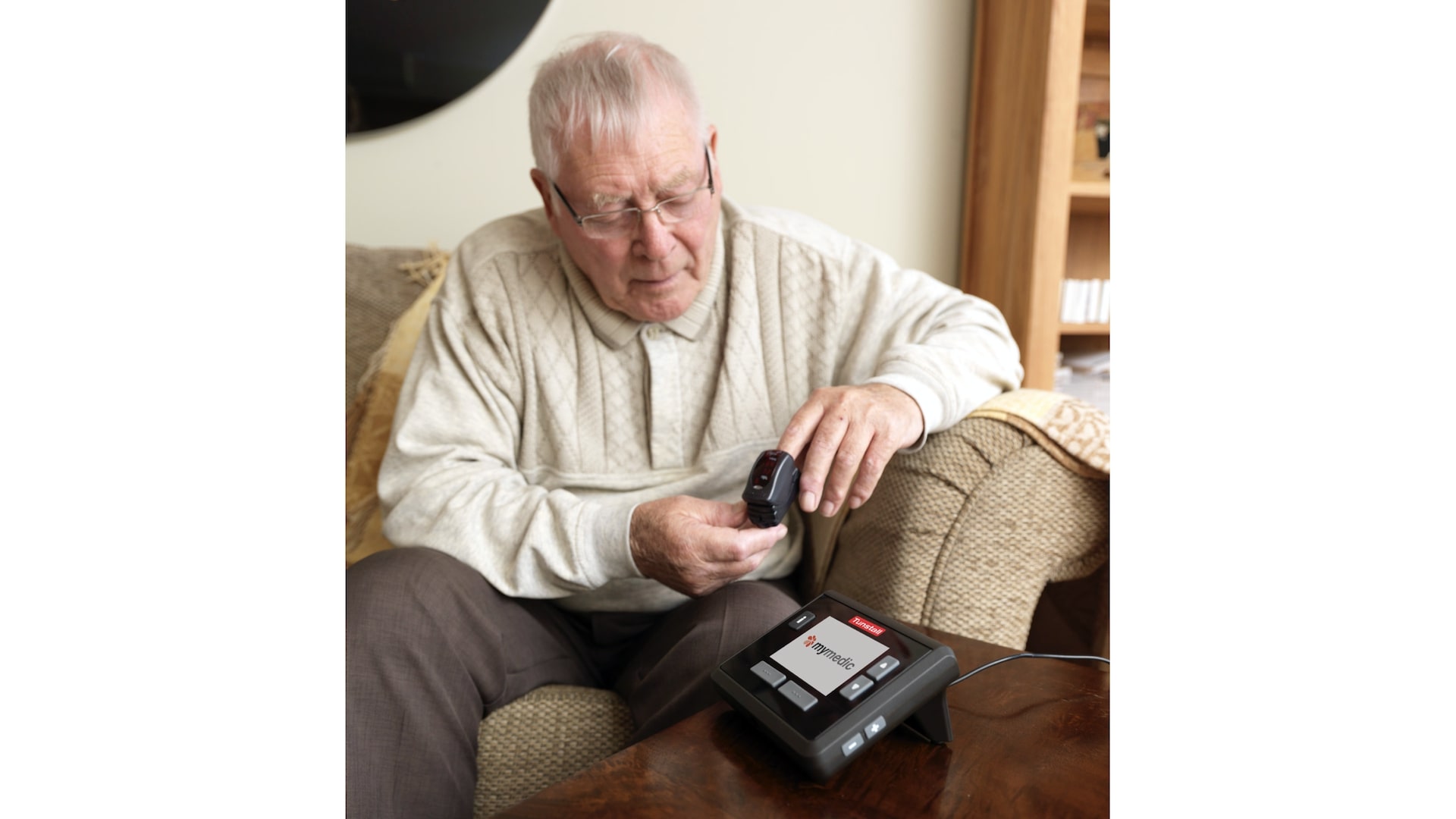 (A senior uses a pulse oximeter. He is sitting on a couch at home. Photo by Tunstall Telehealthcare, licensed under CC BY 2.0)
According to Pew Research population projections, every day for the next nine years, 10,000 baby boomers will reach age 65 in the U.S. By 2030, Pew projects nearly one-fifth of the U.S. population will be aged 65 or older. And people aged 65 or older will outnumber those under 18 by 2034 for the first time in U.S. history.
In Canada, one in four people will be aged 65 or older by 2030. Seniors will make up nearly 25 per cent of the Canadian population by then.
"If you want to keep those customers, you better be thinking about how you're going to serve them as their abilities begin to degrade," said Dame.
It's all about building empathy. And the first step to doing that is for tech companies to hire more disabled people so they're aware of how their product may not be usable.
Dame said when he worked at a bank in the past, developers would see him struggling to use a digital product they were building.
"They got to empathize," he said. "Most of us, the world of what we see is what we know. If we're not exposed to people with disabilities, we may not think about how they'll use the product or service we're building."
Hiring people with disabilities builds that mindset into your work, said Dame. And it also gives businesses greater revenue, a larger user base, and a deeper employee pool to choose from, he added.
A research report by American Association for People with Disabilities and Disability:IN said companies that embrace disability inclusion get access to a talent pool of 10.7 million Americans. That same report found companies that champion hiring people with disabilities also benefited from 28 per cent higher revenues than those who didn't.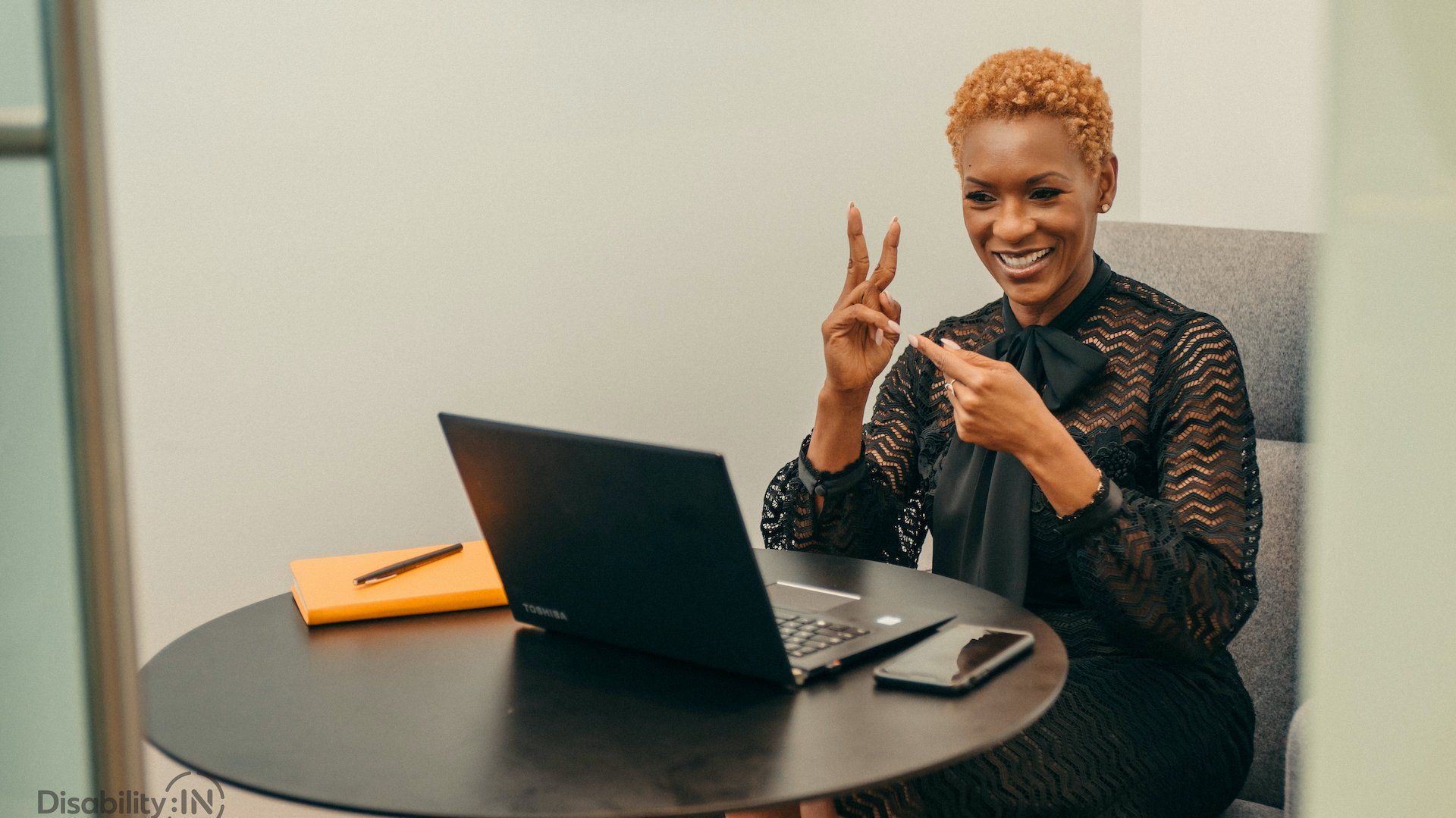 (A woman communicates with sign language. She is sitting at a table with a laptop open in front of her. Photo by Disability:IN, licensed under Creative Commons 4.0)
"We have to start making people with disabilities on par with all the other diversities that we think are important because diversity isn't just one outlier," said Dame. "It's a mixture of all those different groups."
For its part, having an inclusive mindset is part of Communitech's culture and how the non-profit coaches and advises founders in building products and services. Accessibility isn't just about legality, said Bencina.
"Ultimately, we believe if you're going toward the lowest common denominator of the law then you're not achieving excellence," he said.
At Communitech, making all of their digital products — including public-facing websites — accessible is an evolving thing.
"It's not a one and done," said Bencina. "People talk about data by design and privacy by design, but it has to be accessibility by design."