The Open Ears Festival of Music and Sound is celebrating its 20th anniversary this year. Twenty years of delivering something of value is a substantial achievement in any endeavor. In the tech ecosystem here in Waterloo Region it's not often seen among companies — Zeitspace, for example, is not even two years old yet. And in the arts community, it's also an organizational milestone that isn't easily reached.
Zeitspace, at some level, reflects the interests of our still-young team. Given that, it's perhaps not surprising that Zeitspace is sponsoring Open Ears this year. Some of you, of course, may be asking why that is.
In past years, Open Ears has been somewhat associated with Fluxible, which I co-chair, and where various Open Ears associated musicians have delivered wonderful musical performances as a part of the Fluxible Conference program. (That's a relationship that will continue this year, by the way, with more details to come.) As well, I've been on the board of directors for Open Ears for several years now, doing what I can to support an organization whose mission and activities are meaningful for me.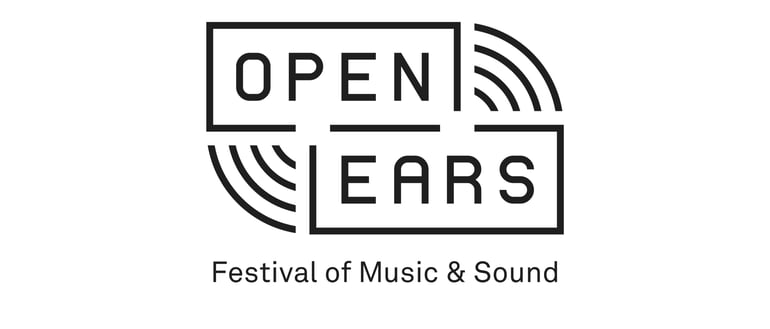 Open your ears at this festival of sound and music
Open Ears has been a consistent presenter and instigator of innovative programming that extends the boundaries of what a musical experience can be. Given the work that we do at Zeitspace designing and building great experiences for our innovative clients, Open Ears seemed like a natural fit for us. Sponsorship is an easy way for us to support what Open Ears is doing, providing some of the resources they need to do their work.
I think that it's fair to say that there's a tension between two thriving communities in Waterloo Region, with each of the large and diverse arts and tech communities not necessarily having a good understanding of what the other is, and what the other brings to our region. My own view is limited by my own experiences, of course, but I've been fortunate to have some visibility into each community. And the arts and tech communities each make Waterloo Region a place where I want to live and work.
The programming for the 2018 edition of Open Ears will be, as it is for every edition, amazing. Check it out, and then get yourself a festival pass.
And, finally, if you have any kind of influence where you work, please consider having your company sponsor Open Ears as well. The impact will be huge, and you'll be able to say that you helped deliver world class music to our very own region. If Open Ears isn't your thing, there's plenty of other creative activity happening here. Consider sponsoring or otherwise supporting any of the other arts groups that help make Waterloo Region such a wonderful place to live and work. And please share with us — and others — your thoughts on the arts groups that you care about and that you think people should know about.