Zeitspace partner Mark Connolly was riding his bike last summer trying to access a new multi-use trail along Homer Watson in Waterloo Region when he discovered he couldn't find a way to easily get there.
There is no shortage of free digital maps to get around, but many are car-centric. That's when Connolly thought the region needed an interactive map that was easily accessible and cycling centric.
It's been several months since Zeitspace began pro bono work on such an app (work on the project started with user research, interviews, and UX design, and has now moved onto the software development phase). The mobile app, for iOS and Android devices, is meant to show people who aren't avid cyclists routes to safely cycle in the region. It'll offer routes and directions based on their comfort level with cycling.
"The app is aimed at people who don't cycle as much because they don't know the options and may not feel comfortable," said Connolly. "But there is infrastructure being built and there are safe ways to get around and this app will help people do that."
New cycling infrastructure has popped up throughout the region. In downtown Kitchener, the city created a cycling network with protected bike lanes o Water and Joseph streets that connect to the Iron Horse and Spur Line trails. In Waterloo, bike lanes have been installed in subdivisions like Vista Hills. And the region has installed protected bike lanes along stretches of Columbia Street, University Avenue, King Street North, Albert Street, and Erb Street after a pilot project showed a significant increase in cyclists. (The region has also recently built a new multi-use trail on Victoria Street and is in the midst of building a new multi-use trail along a stretch of King Street East in Kitchener near Grand River Hospital's Freeport campus.) The Market Trail, running from Bearing to the St. Jacobs Farmers' Market is also almost done.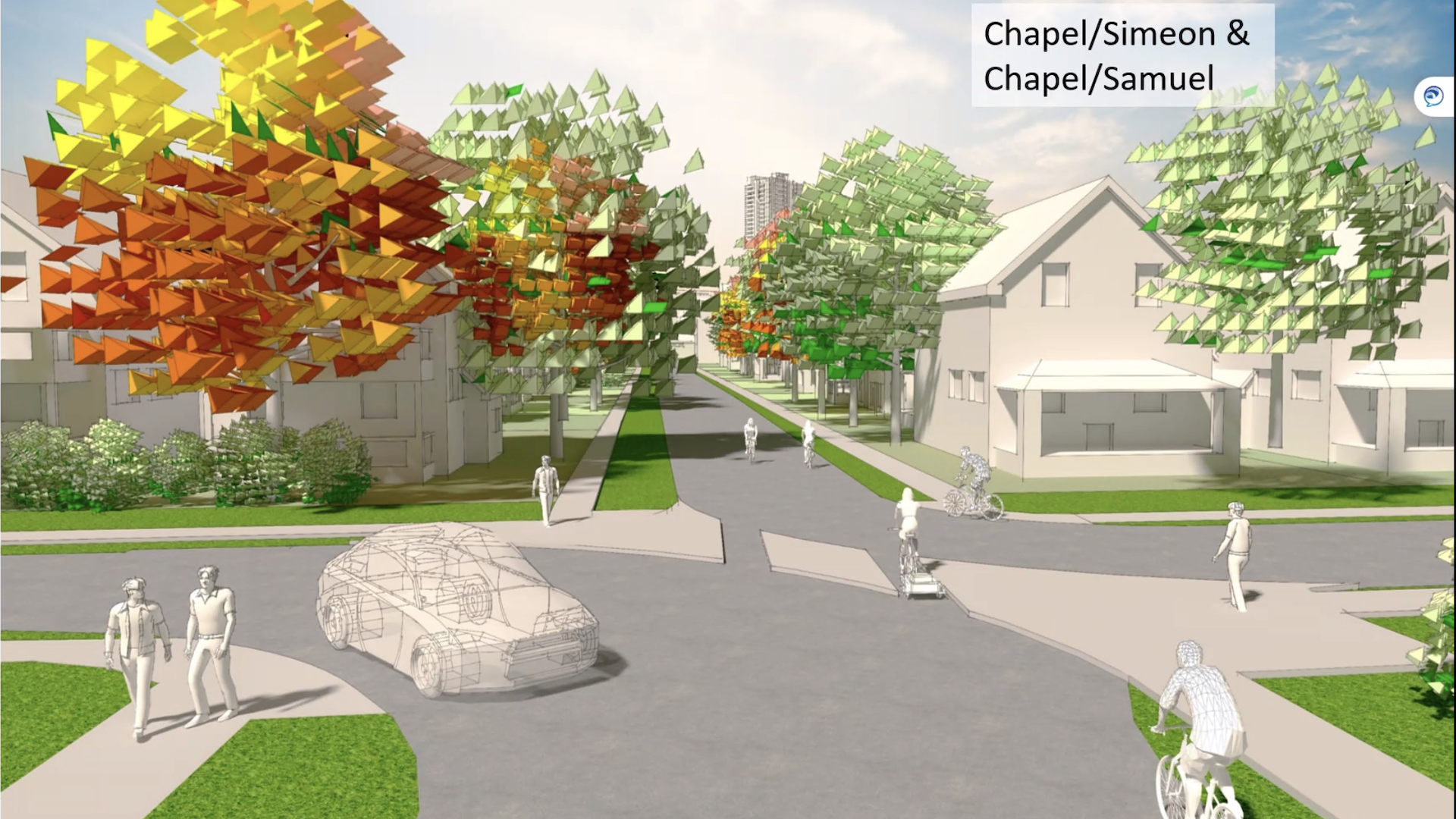 (An artist's rendering of a planned neighbourhood bikeway in the City of Kitchener.)
Related stories:
How the City of Kitchener is designing streets for all
New campaign encourages kids to walk, bike to school
Pedal power: More cyclists hit the road with temporary bike lanes
Once complete, the app will offer cyclists directions, information about where they can park their bikes, and details about cycling infrastructure like separated bike lanes.
"This app will have a cyclist's view of the world," said Connolly.
What makes this app different from others is that it's hyperlocal and targeted at cyclists who may not be as confident in an urban setting, said CycleWR's David Trueman.
The app will also focus on user feedback. Not only can users submit a point of interest or a hazard, but Trueman said the goal is to respond to feedback once it's received.
"Other commercial apps are a bit of a black box when someone submits feedback, so we'll act on feedback and be responsive," he said.
"We want to help people feel a sense of community ownership for the app and what it represents."
Trueman said he's pleased with the progress and momentum Zeitspace has made on the project.
"It's really reassuring to be working with a very professional group. You're not just producing something that sort of works, you're producing something that is high quality, maintainable, and responsive to future needs," said Trueman.
This isn't the first time Zeitspace has done pro bono work. We've built the Choice Connect app — which helps people across Canada access abortion referrals — for SHORE Centre, and an app for Kitchener Waterloo Community Foundation to show would-be donors the impact of setting up an endowment fund. We've also built an app for the National Cycling Institute in Milton.
"We live here and we have skills and expertise that we can apply to benefit the community and the organizations that we work with," said Connolly.
Not only is Zeitspace a company that's interested in active transportation — the Zeitspace office is strategically located near an LRT stop and has a bike locker for employees — but pro bono work also keeps members of the team engaged in meaningful ways and working on their craft between paid projects, he said.
Zeitspace is building the cycling app on top of open street maps data and work that Bike Ottawa did. All the code will be open source so that other communities can use it to create their own hyperlocal routes.