Alex McVittie clicks a point on a map and the sound of a simple plodding rhythm from a piano fills the room.
"This is the Bahamas turned into music," he said to the crowd who had gathered.
He toggled over to the grasslands of Saskatchewan, represented by the flowing sounds of the clarinet and violin, then the arctic of Greenland, made up of bells, and finally the forests of the Democratic Republic of Congo, represented by the calming sounds of a harp.
McVittie, a platform developer at SkyWatch, was introducing about 115 middle and high school students in Waterloo Region to space, using an algorithm he developed with three other people called SongSAT. SongSAT takes satellite pictures of five distinct terrains of Earth — arctic, grasslands, forest, coastal, and mountainous regions — and turns them into music. The tool won the "most inspirational" category during NASA's Space Apps Challenge last year when the theme was to turn the space agency's Earth imagery into unique art.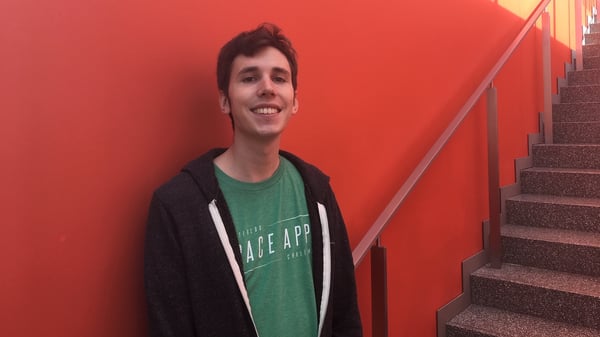 (Alex McVittie)
McVittie was one of seven people at the Institute for Quantum Computing (IQC) at the University of Waterloo this month trying to inspire students to pursue careers in the space sector as part of "Let's Talk About Space," an event hosted by SkyWatch, a company that helps commercial users access satellite data.
"Normally I wouldn't think you could use science to make music," said Kennedy Shepard, a Grade 8 student at Chicopee Hills Public School, who attended the event with her science class. "I thought this would be a cool opportunity and I was right. Before I was interested in music, but now it's more scientific."
The space sector is growing at an unprecedented rate, said Marine Dumontier, SkyWatch's marketing manager. SkyWatch put on the event to try to fill what it expects will be labour force gaps in the industry due to its rapid growth. The event at IQC was about targeting the next crop of people who could study or work in space, said Dumontier.
"We see the industry expanding and we're going to need talent," she said.
The future of work, where automation will displace workers, will change the landscape of the workforce. That means that while automation will replace jobs held by people now, there will also be talent shortages as growing industries, such as the tech sector, look to fill jobs.
The Brookfield Institute for Innovation and Entrepreneurship at Ryerson University reported that in 2015 the Canadian tech sector — which includes aerospace — was generating $117 billion of the country's economic output even though 69 percent of tech firms had fewer than four employees.
Canada's space sector employs 10,000 people and the global space market is expected to triple in size by 2040.
While some young people and the education system are preparing for that with knowledge, SkyWatch wanted to prepare those students with excitement, inspiration, and possibility. And so they hosted the day which featured seven speakers discussing everything from using drones in agriculture to a talk about black holes. The SkyWatch event kicked off with McVittie creating music out of satellite images and ended with a panel featuring women in science and the challenges they face.
McVittie said he hopes the students walked away from his talk with a bit more musical knowledge.
"It's about looking at the world in a different way and being inspired to create more," he said