The Regional Waterloo council meeting was bookended by two interesting events Tuesday.
Both events involved active transportation and each was met with a different reaction. While the announcement of $41 million in federal, provincial, and regional funding to add 10 active transportation projects in Waterloo Region was met with excitement, not all regional councillors were excited about a staff plan to temporarily put some regional roads on a diet to make more room for cyclists and public transit.
While the funding was revered, the staff plan was referred to next week's full regional council meeting.
So what happened?
In a funding announcement first, all three levels of government — federal, provincial, and municipal — came together virtually Tuesday morning to announce that Waterloo Region would be getting a slice of the $180 billion Investing in Canada Infrastructure Program for active transportation. In effect, the $41-million investment — $13 million from the federal government, $11 million from the provincial government and $17 million from the region — would go toward 10 projects that bolster the region's cycling and walking infrastructure and public transit. Design is already underway for some projects. Most of the work will start in 2021, with some construction continuing until 2023.
"In the time of COVID-19, it's pretty clear how important local communities are to our lives…. We recognize the role of local businesses, essential workers, of natural spaces, of being able to get around in safe ways and clean ways," said Catherine McKenna, federal Minister of Infrastructure and Communities.
The projects will tackle congestion so people can get around faster, while also creating jobs, said McKenna.
Kitchener-Conestoga MPP Mike Harris called it a "game changer for the region."
That's good news for Waterloo Region to be sure.
But the goodwill created from that announcement was short lived.
Nearly six hours later, regional council was deep into a debate over whether to add 24 kilometres of temporary separated lanes on some regional roads for either cyclists or cyclists and transit. The idea was for the region to seize on the fact that there's less traffic on the roads because of the pandemic and use the opportunity to test out road diets, some of which were already on the horizon. If approved, the temporary lanes would go up between July and August and come down in November.
While the funding announcement and the later debate over temporary lanes for cyclists were separate, both serve the region's broader transportation master plan, which in part aims to promote "viable transportation choices for people of all ages and abilities."
But the driving force of the staff recommendation came out of an urgent need to keep physical distancing during the pandemic. It also came out of a council request for staff to look at options, Mike Murray, the region's chief administrative officer, said during the meeting.
The demand for cycling is up as local bike shops report that they're sold out of entry level bikes and their service departments are as busy as ever. That's created a spike in the number of people using trails in the region.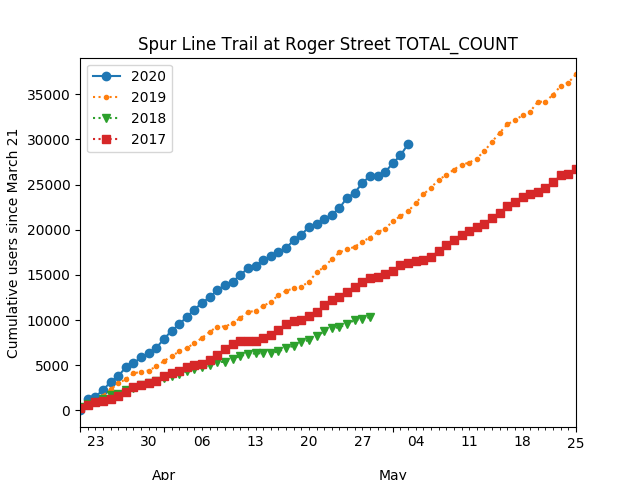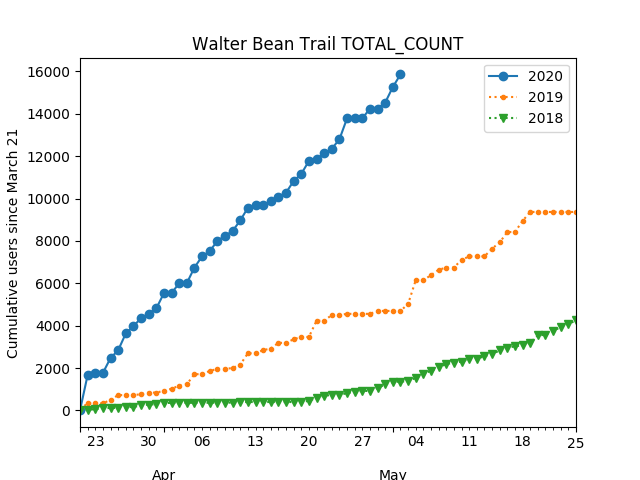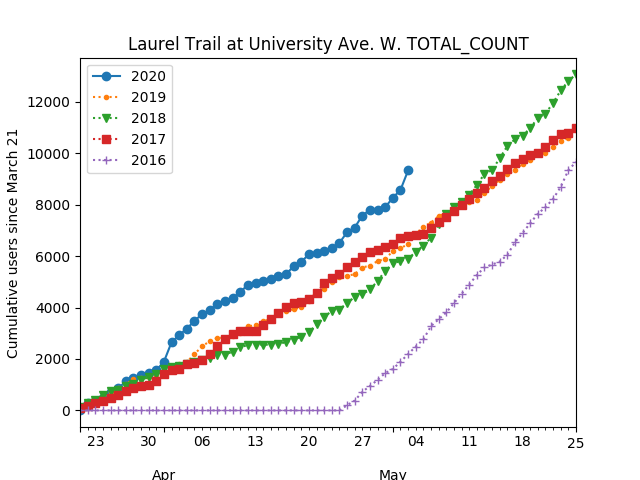 (Graphs courtesy of Mike Boos)
But despite that, some councillors took issue with the report coming out the day before they were expected to vote on it and with the lack of public consultation. That led to a motion to defer the temporary project until the public could be consulted, which would, in effect ground the project for a year. The motion to defer the project for public consultation failed.
Regional Chair Karen Redman pointed out the lanes are temporary and that the report doesn't contain any new information.
"There's a window of opportunity that probably won't come up again," she said during the debate.
The proposed sites for dedicated temporary bike lanes offer connection to trails and protected bike lanes that already exist. If approved, the region would add 24 kilometres of new separated cycling lanes along key stretches of regional roads. The temporary cycling lanes would help promote cycling as a viable mode of transportation, regional staff said.
"This is the type of system that I've always dreamed of for our region. This is the door opening to that change of lifestyle that we've always talked about," Coun. Sue Foxton said during the debate.
Beyond health and the climate crisis, research has also found that bike lanes boost retail sales and home values.
Though a motion to defer the move to add dedicated bike lanes to some roads was defeated, councillors did support holding off voting on the staff recommendation until their next meeting June 24. That gives staff time to reach out to the public about the plan and for people or groups to address the recommendation at the next meeting.
"It's absolutely critical to pick the low hanging fruit in terms of active transportation," said David Trueman, an advocate of active transportation.
Temporary bike lanes are the fastest and easiest ways to increase active transportation in the region, he said.
Climate Action Waterloo Region, a group to which Trueman belongs, started working on a proposal to give cyclists more space on roads in early April when the pandemic was at its peak.
The emphasis was to give both cyclists and pedestrians more space so people who didn't own a vehicle and didn't feel comfortable using public transit, could safely travel to pick up groceries, medication, or go to work.
The number of people using trails has doubled, said Trueman.
"Physical distancing, especially with a bicycle, was getting difficult," he said.
A big part of the push to create more space for pedestrians and cyclists was that traffic had dropped on roads dramatically — at one point by 50 per cent according to traffic counts. It's still about one-third lower than normal.
At the same time, the number of people cycling is going up. Some are cycling for the first time.
"We have this social movement toward biking right now and like any social movement it's fragile," said Trueman. "If we can support this move to cycling, we might see a major change in this community. This could be the crucial breakthrough."
While some councillors may be fearful of change, other communities that have made the shift have seen vocal opponents change their minds once separated cycling lanes were added, said Trueman.
More than 10 years after the first separated bike lane in Vancouver was installed in 2009, it's now the busiest urban bike path in North America. At the time, the Downtown Vancouver Business Improvement Association was a vocal opponent to the separated cycling lane, due to fears over the loss of on-street parking and projected increased congestion that never happened.
"They were wrong and we were wrong and we don't mind saying we were wrong, but nobody had a crystal ball back then," Charles Gauthier, executive director of the association, told the Vancouver Sun last July.
Proposed temporary dedicated cycling lanes
The Region of Waterloo is considering a proposal to close curb lanes on some regional roads and turn them into dedicated cycling lanes. Here are the roads included in the proposal:
King Street/Coronation Blvd/Dundas Street from Bishop to Beverly streets in Cambridge (4.3 kms)
Westmount Road from Queen's Boulevard to University Avenue in Waterloo and Kitchener (4.6 kms)
Frederick Street from Weber to Lancaster streets in Kitchener (0.5 kms)
Erb Street from Westmount Road to Caroline Street in Waterloo (1.1 kms)
One lane only of Erb Street from Pepper Street to Margaret Avenue in Waterloo (1.4 kms)
One lane only of Bridgeport Road from King Street to Margaret Street in Waterloo (1.6 kms)