Brant Cooper used to warn companies that winter was coming.
Not the season, but a recession that would change how they work. He didn't predict the COVID-19 pandemic, but now winter is here, the New York Times bestselling author of The Lean Entrepreneur told a ProductTank Waterloo virtual meetup.
And that means companies need to work differently.
Cooper founded Moves the Needle and teaches a combination of design thinking, agile, lean thinking, and lean innovation principles. In the ProductTank Waterloo meetup he outlined the three E's of product innovation (more on that later) and how to use them to unlock growth.
But first Cooper talked about why most organizations shouldn't focus on what he called "forced innovation." That's when companies create an innovation lab that's isolated from the organization and the rest of the world and are tasked with finding a breakthrough and new opportunities.
"There's a fundamental problem with this approach," said Cooper.
Innovation doesn't happen in isolation, he said. Most innovation comes from people working with end users in the market they're trying to serve and getting customer feedback. Often it happens by accident, said Cooper.
Another problem with focusing on forced innovation is that those budgets are typically cut first in a recession.
"I hear a lot of leaders saying, 'We need to buckle down,' " said Cooper. "But you need to work differently when you're facing uncertainty."
Now may not be the time to carve out new business models, but rather focus on the customer experience and creating customer value. According to Cooper, the three things companies should focus on now are: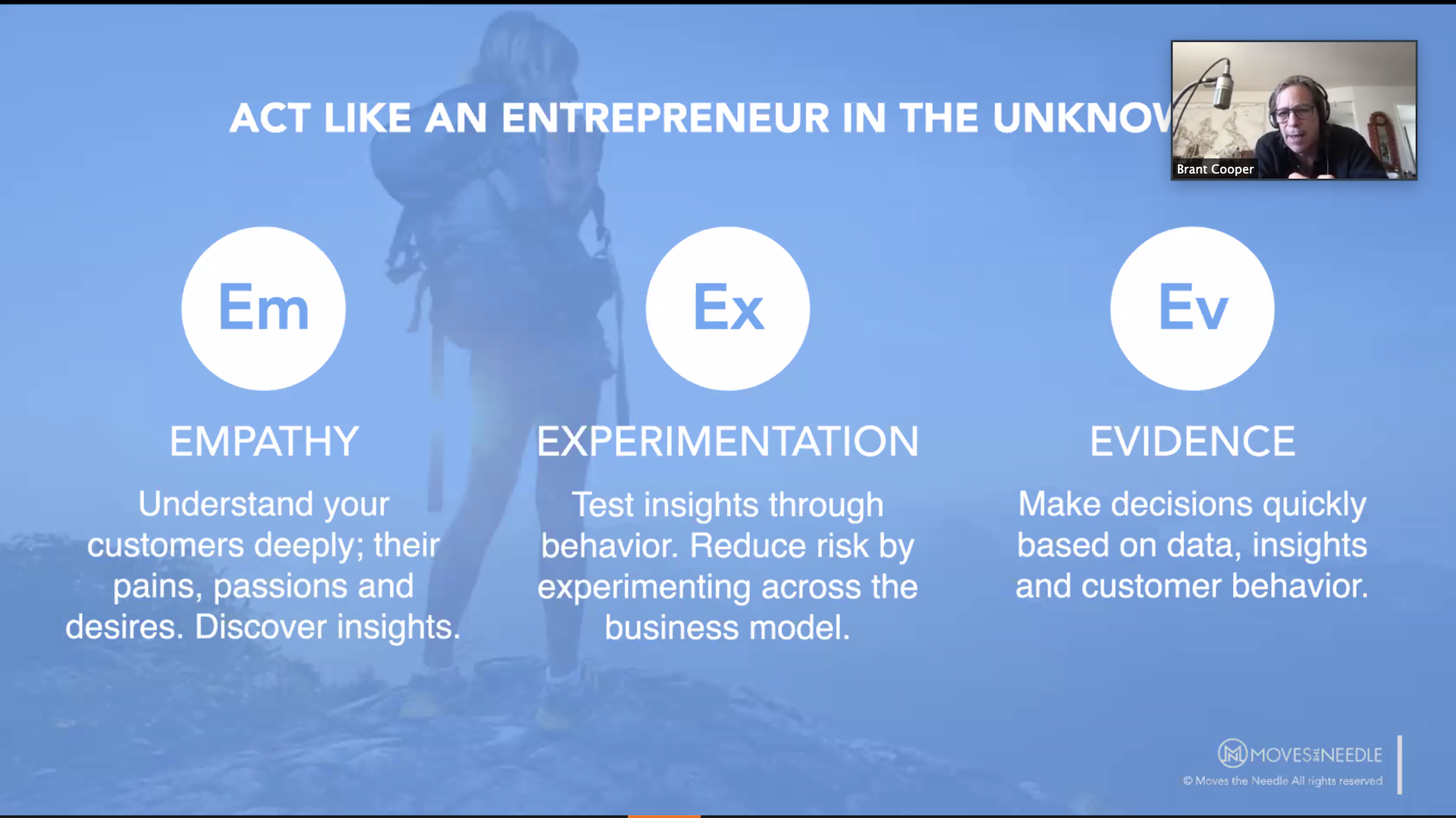 (Brant Cooper talking next to a slide. Text on slide: Act like an entrepreneur in the unknown. Empathy, Experimentation, Evidence.)
Empathy: Understand your customer's why.
A lot of companies think empathy work is sitting around a room and imaging you're the customer, said Cooper.
"That's not what we're talking about here. When there's more uncertainty involved, we need to go deeper," he said.
Dig into the emotional side of the customer's work — and don't ask them to predict the future.
"The customer doesn't understand how to solve the problem. If they did, they would have solved it," he said.
There are still ways to have meaningful conversations with customers remotely, Cooper added. For example, ask customers to shoot a video of how they're problem solving now, he suggested.
Experimentation: Test insights through behaviour; Reduce risk by experimenting across your business model
The same deeper approach applies to experimenting when you're in the midst of the new product development process. If you're testing a minimum viable product (MVP), go deeper than A/B tests, said Cooper, and run experiments in the wild.
"You're trying to get your customers to behave in a way that validates or invalidates an assumption. That's not just for products, but for business models as well," he said.
Experiments are for the customer, Cooper said later. If the customer sees the value of a new product or service — or even an existing product — then internal stakeholders will eventually see the value as well through customer loyalty.
In a remote environment, invite people to webinars to gauge interest in a new product or service.
Evidence: Make decisions quickly based on data, insights, and customer behaviour
Metrics are a big part of evidence, so think of metrics that show you're making progress on your desired outcome, said Cooper. What behaviour suggests an end user is satisfied? Is it that they share your product with 10 friends? Or that 10 people download a case study from your website? Focus on measuring customer behaviour that indicates they're getting value from your product or service, said Cooper.
If they haven't already, organizations should also focus on building cross-functional teams.
"Customers don't experience your product in a silo," he said.
After his talk, Cooper answered participant questions, such as best ways to help companies take a learning approach — "go get empathy for your leaders," he said — and how to tell if an experiment is poorly designed.
It's hard to write assumptions that will drive experiments, said Cooper. Sometimes, people will write assumptions that are not truly unknown, said Cooper. But in order to be effective, assumptions must tackle your biggest unknown risk.
"Have the discipline to go for the true unknown. Write the proper assumption and then build an experiment that actually tests the assumption," he said.
Six months ago, Cooper said he had to dig deep to brainstorm scenarios for companies around uncertainty. But recently the idea of uncertainty has become "glaringly apparent," he said. In the end, the pandemic has forced companies to change and Cooper is hopeful some of the changes will stick. If companies can figure out how to help customers now, then they'll find "real innovation" years and years down the road, said Cooper. That will eventually become their competitive advantage.
"Winter is here," he said, "but spring is coming."