One parent used it to record their child playing violin.
Local musicians have been recording scratch tracks to give to producers.
A local poet recorded herself reading her work and gave the recording to her children for Christmas.
People have been learning podcasting, programming languages such as Python, and going on virtual reality tours with National Geographic.
When Heffner Studio reopened in November 2019 after renovations, it was a key part of the Kitchener Public Library's (KPL) mandate to increase tech and digital literacy in the community.
"As a community in the City of Kitchener and Region of Waterloo as a whole, tech is such an important part of what's happening here," says Amanda Wilk, manager of Heffner Studio. "There are so many tech startups and as a library it's important to be able to equip people with the skills they need to be successful in their lives. People traditionally come to the library for information — that's always been true — but more and more the library has become a space where we are an information hub and a space where people come and create together."
The studio offers the community a place where they are free to experiment, explore, learn, record, edit, and share their stories with the world, says Wilk. The response to the renovated Heffner Studio has been "incredible," she says.
The library has seen many people sign up for library cards so that they can use the space, which is free. Library users can book one of the four sound-treated audio spaces for podcasting or musical recording twice a week for up to two hours each time. The biggest audio space has room for six people and comes with an electronic drum set, keyboard, bass, and five guitars, along with a computer equipped with GarageBand and Logic Pro X. GarageBand and Logic Pro X are available in all four studios. There's also a virtual reality space equipped with Oculus Rift S and more than 15 games. Workstations with Adobe Creative Cloud, two Ultimaker 2+ 3D printers, and space for programming make up the rest of Heffner Studio.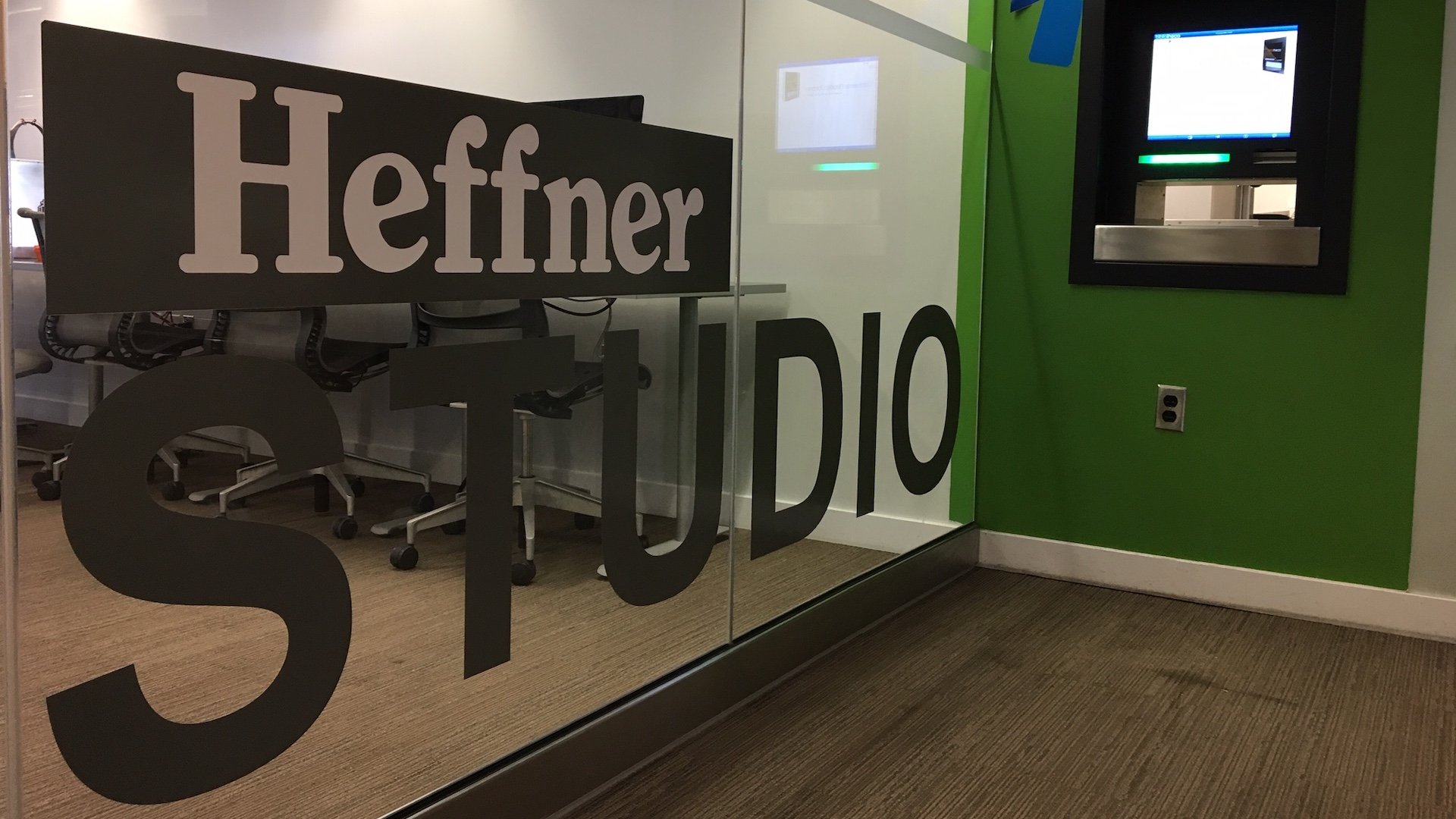 In the first month Heffner Studio was open, the recording studio spaces were booked for 568 hours of recording time and more than 500 people came through its doors, either for tours or programming, says Wilk. The library also puts on workshops for school tours, where students create their own virtual world.
But outside of school, the space is also well used by students who book it on their own time.
Twice a week, a group of high school students working to create their own hip hop album use the recording space, says Wilk. There's also weekly programming that teaches kids to code. Teens are signing up for podcasting and recording workshops, which are open to both adults and teens.
Wilk has been surprised by the breadth of use.
"I didn't realize Kitchener was home to such a vibrant hip hop community and that's been really exciting to see people from that community in the space," she says.
Heffner Studio is just the latest example of how the KPL is shattering the once typical image of a library, where people quietly read and borrow books. There's still plenty of that, but also a growing number of services to complement the bookshelves.
In 2015, the library began loaning out wi-fi hotspots — the first Canadian library to do so — and won an award for the initiative. In 2017, KPL announced it was partnering with Sun Life Financial to launch a musical instrument lending program. The program has been popular, says Wilk, and removes a barrier for people interested in learning an instrument but who can't — or don't want to — invest money to buy their own.
"As a program it's been really successful," says Wilk. "The instruments are almost always out." There are 217 instruments in the collection, from guitars and bongo drums to xylophones and violins. The most popular instrument in 2019 was the acoustic guitar, which was checked out 420 times, says Wilk.
When people sign up for a library card to use Heffner Studio, they also find out about the musical instrument lending program and other offerings at the library, such as free access to expensive databases like Lynda.com.
The perception of libraries is changing, says Wilk, who offered up a quote in a library association toolkit about where libraries are headed: "Libraries used to be grocery stores," she says. "Now they need to be kitchens."